Herbarium MJG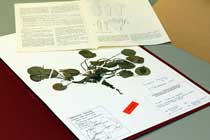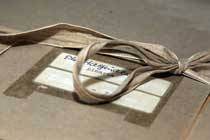 1964 Founded by Dr. U. Hecker (Curator of the Botanical Garden and the herbarium until 2000).
1969 Dr. Hecker started a new moss and lichen collection.
Since 1974 MJG is registered officially in the

Index Herbariorum.
1974 until 1978 Integration of 4424 specimens collected by Prof. Wilhelm Troll.
1996 Integration of 3500 specimens from Columbia, Ecuador and Costa Rica (Páramo vegetation) collected by Prof. Hans Weber. A comprehensive collection of fungi from the Rhineland Palatinate is compiled by Dr. Gerlinde Hausner with c. 1800 beautifully preserved specimens.
2012 A collection of c. 200 specimen of parasitic fungi is added to the collection by Katharina Brellochs. We started to integrate a comprehensive floristic documentation of the Gargano (Italy) with more than 6000 specimens mostly collected and identified by Dr. Wolfgang Licht into the herbarium.
12/12/2012 The herbarium moved to new rooms on the 2. floor at Bentzelweg 9 b.